Learn How to Talk to the People You Love About Abortion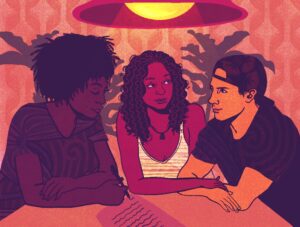 Heart-to-Heart Conversation Toolkits teach you how to talk about abortion with care and intention. With the Heart-to-Heart Card Decks and Conversation Guides, you'll learn how a simple conversation can reduce the stigma around abortion.
Get Started with Our Heart-to-Heart Conversation Kits
Resources for having a Heart-to-Heart:

Heart-to-Heart Card Decks
These are the talking points you need to start conversations and keep them on track. Order your deck of conversation cards or Draw a Card from our randomized online deck.

Heart-to-Heart Individual or Small Group Conversation Guides
Decide who you want to talk to and pick the guide that fits your goal.
See Heart-to-Heart Toolkits in Action!
Check out Heart-to-Hearts, Black & Bold.
Black Reproductive Justice Leaders used Heart-to-Hearts to build bases in their communities and foster positive cultural shifts.
Read Black & Bold Heart to Heart Responses!