Why We're Celebrating Tax Day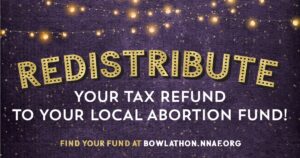 We want our tax dollars to fund abortion, and it's time the government listened.
Since the Hyde Amendment was passed in 1976, abortion has been excluded from the comprehensive health care services that the federal government provides through Medicaid, except for cases of rape, incest, or the endangerment of the pregnant person's life. In addition to people enrolled in Medicaid, those denied access to federally funded abortion include Peace Corps volunteers, disabled individuals on Medicare, low-income residents of Washington, D.C., military personnel and their dependents, federal employees and their dependents, and federal prisoners.
It is past time that our federal tax dollars are used to fund abortion. Abortion care is a highly important aspect of comprehensive health care, yet this is not held up in our laws or in federal insurance. Further, abortion is a social good that is necessary for the well-being of our families and communities; an essential component of ensuring the bodily autonomy of everyone.
The Hyde Amendment is particularly unjust because it discriminates against people living with low-incomes, disabled people, Native Americans, military personnel, and the incarcerated. Denying abortion coverage and every barrier to abortion access is a burden, not just for people struggling to pay for rent and groceries, but for anyone who needs the procedure. Everyone should have comprehensive health insurance coverage no matter how they get their insurance. Our government should not obstruct taxpayers who need abortions through their federal insurance.
That's why we hope you will join us in redistributing part or all of your tax refund to your local abortion fund through Bowl-a-Thon or using our full list of funds. You can also donate to the National Network of Abortion Funds. Committing our tax refunds to help pay for abortions is a great way to reclaim how healthcare works in the U.S. It's how we show our friends and legislators that we believe tax dollars should cover the full spectrum of health care, and that if our government won't recognize this, we'll take matters into our own hands.
Will you join us in boldly stating that you want your tax refund to help fund abortion care?
Shareable graphics: